What is VoIPmonitor
VoIPmonitor is an open-source network packet sniffer with commercial GUI and VoIP/RTC session recorder that enables businesses to monitor, troubleshoot, and analyze their VoIP (Voice over Internet Protocol) and RTC (Real-Time Communication) traffic.
With VoIPmonitor, businesses can gain valuable insights into their network traffic, including call quality metrics, call detail records, and other critical VoIP-related data. This information can help businesses optimize their VoIP network performance, identify and resolve issues, and ensure the best possible end-user experience.
VoIPmonitor also supports real-time analysis, alerting, and reporting, enabling businesses to stay on top of their network traffic and identify issues as they occur. Additionally, the platform is scalable and can support both small and large VoIP deployments, making it an ideal choice for businesses of all sizes.
Call Quality Monitoring: VoIPmonitor provides comprehensive call quality metrics, including MOS (Mean Opinion Score), jitter, packet loss, delay, and other VoIP-related data. These metrics help businesses identify and resolve issues with call quality.
Session Recording: VoIPmonitor records all VoIP/RTC sessions, allowing businesses to review and analyze call data later. This is particularly useful for troubleshooting, compliance, and training purposes.
Real-Time Analysis: VoIPmonitor supports real-time analysis of VoIP/RTC traffic, allowing businesses to identify and address issues as they occur.
Alerts and Notifications: VoIPmonitor can send alerts and notifications to IT staff when specific call quality thresholds are exceeded or other issues arise.
Reporting: VoIPmonitor provides detailed reports on call quality, call volume, and other VoIP-related data, allowing businesses to gain insights into their network performance.
Billing: VoIPmonitor allows businesses to set pricing for their VoIP services based on various factors, including call duration, location, and type of call.
Anti-fraud: VoIPmonitor's anti-fraud feature helps businesses detect and prevent fraudulent activity on their VoIP networks. This is particularly important for VoIP service providers who may be targeted by fraudsters looking to exploit vulnerabilities in the network.
Scalability: VoIPmonitor is scalable and can support both small and large VoIP deployments.
Integrations: VoIPmonitor integrates with other VoIP/RTC platforms and tools, including PBX systems, softphones, and SIP proxies.
Main features
Supported protocols: SIP RTP RTCP SKINNY(SCCP) MGCP SS7 SCTP WebRTC Diameter TCP SSL TLS
Supported transports: UDP TCP (robust passive TCP reassembler)
Output: CDR, full SIP/RTP pcap, WAV OGG audio, T.38 PDF FAX, ITU-T G.107 E-model MOS score
Digital signal processing: voice decode / spectral analyses / silence and clipping analyses / FAS detection / DTMF detection
Codecs: G.726 G.722 G.729a G.723 iLBC Speex GSM Silk iSAC OPUS AMR
Comprehensive statistics / charts / dashboards
Alerting
Anti-fraud
Billing
Multi-user Multi-role access
And much more!
Decryption support
SIP and RTP decryption
Supported protocols: SSLv3 TLS 1.0 1.1 1.2 1.3
All cypher suits in openssl
All linux software using openssl (tested with Kamailio Opensips Freeswitch Asterisk SipXecs OpenUC)
Proprietar SIP stacks using non DH cypher suits or DH cypher suits (wireshark session key log must be supported by vendor)
Compatibility
VoIPmonitor is a passive analyser which can decode any software and hardware based SIP
VoIPmonitor is tested and used to monitor all major opensource SIP platforms (Kamailio Opensips Freeswitch Asterisk SipXecs OpenUC)
VoIPmonitor is tested and used by major proprietar SIP PBX/SBC
VoIPmonitor can run on any hardware running linux including all virtual and cloud platforms
VoIPmonitor sniffer can run directly on the linux SIP host or as a dedicated virtual or physical hardware listening to mirrored packets (Switch mirroring / TAP)
How VoIPmonitor scales?
Unique VoIPmonitor architecture allows to analyse over 100 000 concurrent calls on a single server and more than 80 000 calls per second
Unique IO architecture allows to store pcap files for every single call (more than 100 000 concurrent calls) without a need for fast storage (unique internal voipmonitor storage format ensuring serial writes)
Client - Server architecture allows horizontal scaling (adding more servers)
DPDK.org support - accelerate packet processing workloads
VoIPmonitor is representative Vendor in Gartner study - Market Guide for Unified Communications Monitoring


From our customers
"We have found VoIPmonitor to be an essential tool for our customer VoIP troubleshooting. Before VoIPmonitor it would take a considerable amount of effort to pinpoint any problem be it call quality or NAT related issues. We have been using VoIPmonitor for a number of years and the product development is one of the best I have seen, personally I think VoIPmonitor GUI is a must have for all VoIP businesses." - Ashley Breeden, Managing Director, URL Networks

Q&A With Nolan Rollo on the Benefits of Using VoIPmonitor

"I just wanted to write to say that VoIPmonitor has been a HUGE help to us in managing our VOIP service in the face of South Africa's poor quality Internet environment. Aggregating the summary data provides fantastic information showing quality trends for individual customers, classes of customers and overall. The "clean" PCAP files are a huge help for debugging. What a pleasure to be able to go back in time and pull out a call from days ago and look at it packet by packet. So thanks so much for this very useful program!"
Steve Davies Technical Director Connection Telecom (Pty) Ltd

"Telephonic is proud to be a sponsor of the VoIPmonitor open-source sensor project. We are also very satisfied users of VoIPmonitor's commercial interface. Telephonic has had VoIPmonitor in production since early 2010. In addition to using VoIPmonitor to ensure call quality across our core network, Telephonic frequently deploys VoIPmonitor sensors at our clients' premises. The ability to monitor call quality not only within our core network, but also over the 'last mile' to the client, and then within a client's own LAN, has been a game changer for Telephonic. The end-to-end call quality awareness that VoIPmonitor provides, and VoIPmonitor's advanced troubleshooting tools, have been a major enhancement to Telephonic's operations."
Graham Nelson-Zutter, CTO & Co-founder, Telephonic Communications Inc.


References
VoIPmonitor's biggest customers include major telecom companies, VoIP service providers, and call centers around the world.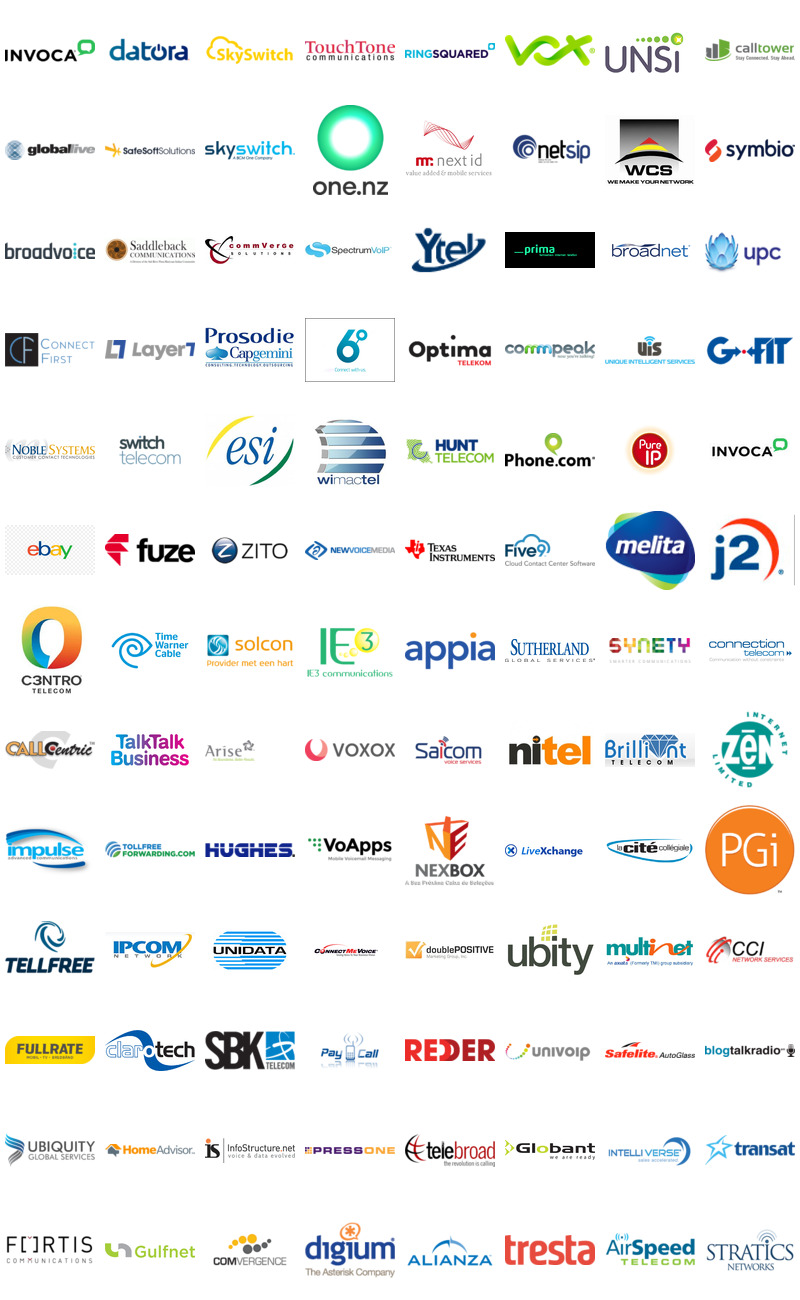 VoIPsun GmbH
For more information click here